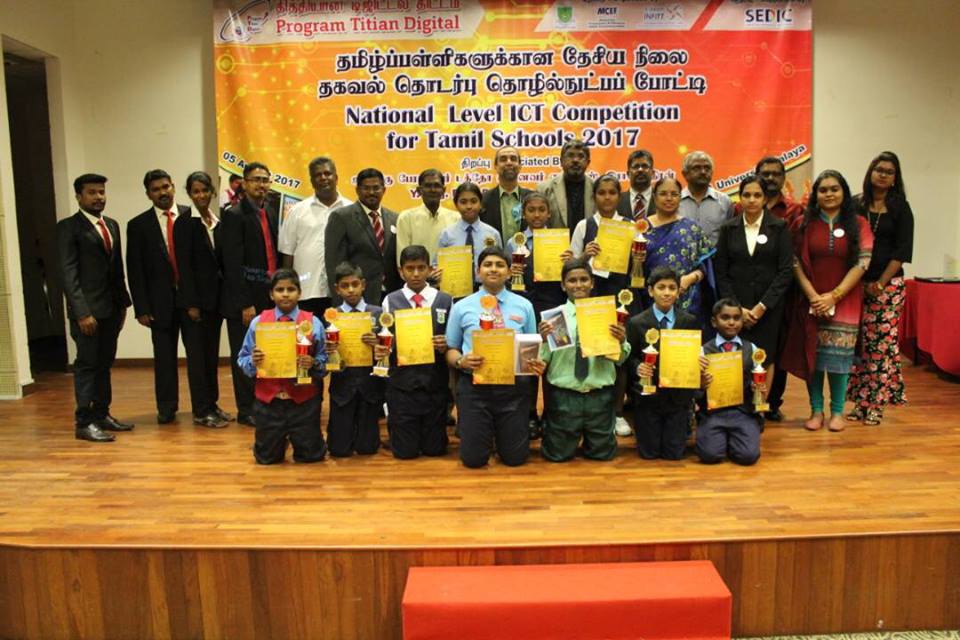 12/07/2021
State & National Level ICT Competition – 2017
The PTD continued to organize the State and National Level ICT Competition for Tamil Schools as an annual activity. This time, we introduced a new competition, i.e: Scratch, which was added to the previous competitions, consist of ICT Quiz, Drawing, 2D Animation and Website Designing.
A total of 181 Tamil Schools with 1091 students from Kedah, Penang, Perak, Selangor, Kuala Lumpur, Negeri Sembilan, Melaka, Johor and Pahang participated in this competition.
The State Level ICT Competition was held from 01 July – 30 July 2017 in seven locations, with an increase of one location compared to the previous years.
The winners at the State Level ICT Competition participated in the National Level ICT Competition on 05 August 2017 in Kompleks IPPP, University Malaya, Kuala Lumpur.
It was officiated by Y. Bhg. Prof. Datuk Dr. N. S. Rajendran, Director General of Unit Khas Program Pembangunan Sosioekonomi Masyarakat India (SEDIC), Jabatan Perdana Menteri.
The first 3 winners of each competition received grand prizes of tablets, trophies & certificates and the fourth until the tenth received trophies & certificates.
The results of the National Level ICT Competition are as below:
1. ICT QUIZ
| | | | |
| --- | --- | --- | --- |
| No | Participants | School | Placing |
| 1 | Ruhan Sri Rama | SJKT Simpang Lima, Selangor |    Champion |
| 2 | Uma Mageswary Anbalagan | SJKT Kajang, Selangor |    Runners Up |
| 3 | Saakti Vel Selvam | SJKT Simpang Lima, Selangor | 2nd Runners Up |
| 4 | Kartik Raj Chandran | SJKT Keruh, Perak |     Fourth |
| 5 | Vaitheswari Jegan | SJKT Tun Sambanthan, Perak |     Fifth |
| 6 | Suraj Prakash | SJKT Sungai Renggam, Selangor |     Sixth |
| 7 | Kanaga Turka Sevaraj | SJKT Kajang, Selangor |     Seventh |
| 8 | Heroshan Mahgeswaran | SJKT Azad, Penang |     Eighth |
| 9 | Surendran Jayaraman | SJKT Ladang Seremban, Negeri Sembilan |     Ninth |
| 10 | Kavinesh Sugumaran | SJKT Batu Kawan, Penang |     Tenth |
2. DRAWING
| | | | |
| --- | --- | --- | --- |
| No | Participants | School | Placing |
| 1 | Shivaneswary Anentha Jothy | SJKT St Theresa Convent, Perak |    Champion |
| 2 | Heyshika V Krishna Kumar | SJKT Simpang Lima, Selangor |    Runners Up |
| 3 | Keeshigah Padmanathan | SJKT Watson, Selangor | 2nd Runners Up |
| 4 | Dharshan Dev Krishnamurthy | SJKT Ladang Nordanal, Johor |     Fourth |
| 5 | Thivasri Thiagerajan | SJKT Klebang, Perak |     Fifth |
| 6 | Kaartic Mahendran | SJKT Kajang, Selangor |     Sixth |
| 7 | Thanishaa Murugan | SJKT Rantau, Negeri Sembilan |     Seventh |
| 8 | Shivaanee Sasikumar | SJKT Ladang Rini, Johor |     Eighth |
| 9 | Sanjena Selvanathan | SJKT Methodist Kapar, Selangor |     Ninth |
| 10 | Dharesh Ananth Babu | SJKT Sungai Manggis, Selangor |     Tenth |
3. SCRATCH
No
Participants
School
Placing

1

Dinesh Nantha Kumar

SJKT Kajang, Selangor

   Champion

2

Thavaanesan Pillai Kesawan

SJKT Ladang Senawang, Negeri Sembilan

   Runners Up

3

Jay Agil Yoogan Ramasamy

SJKT Ladang Senawang, Negeri Sembilan

2nd Runners Up

4

Dhivwinish Saravanan

SJKT Bandar Spring Hill, Negeri Sembilan

    Fourth

5

Revaa Rubini Shanmugam

SJKT Arumugan Pillai, Kedah

    Fifth

6

Tvisha Nair Purushottaman

SJKT Nibong Tebal, Penang

    Sixth

7

Harrishnath Ragunathan

SJKT Bentong, Pahang

    Seventh

8

Moshigen Krishnan

SJKT Ramakrishna, Penang

    Eighth

9

Veemaleshwary Subramaniam

SJKT Bukit Darah, Selangor

 

    Ninth

10

Hemasri K. Arinyan

SJKT Telok Panglima Garang, Selangor

    Tenth
4. 2D ANIMATION
| | | | |
| --- | --- | --- | --- |
| No | Participants | School | Placing |
| 1 | Jayshri Thevasegamani | SJKT Simpang Lima, Selangor |    Champion |
| 2 | Cynthia Ellyster Jason | SJKT Watson, Selangor |    Runners Up |
| 3 | Krithigaa Padmanathan | SJKT Watson, Selangor | 2nd Runners Up |
| 4 | Vaisnawi Haruhlnathan | SJKT Methodist Kapar, Selangor |     Fourth |
| 5 | Thurgashini N. Shanmugavelu | SJKT Watson, Selangor |     Fifth |
| 6 | Dashwini Suresh | SJKT Ladang Rini, Johor |     Sixth |
| 7 | Vhithiyahshree Kathiresan | SJKT Watson, Selangor |     Seventh |
| 8 | Divyaa Velautham | SJKT Ladang Padang Meiha, Kedah |     Eighth |
| 9 | Chia Ree Naa | SJKT Ladang Padang Meiha, Kedah |     Ninth |
| 10 | Elamathi Gunalan | SJKT Simpang Lima, Selangor |     Tenth |
5. WEBSITE DESIGNING
| | | | |
| --- | --- | --- | --- |
| No | Participants | School | Placing |
| 1 | Laveneyah Ariyamalai | SJKT Ladang Soon Lee, Perak |    Champion |
| 2 | Pravin Shanker | SJKT Ladang Rini, Johor |    Runners Up |
| 3 | Anisha Kesavan | SJKT Ladang Rini, Johor | 2nd Runners Up |
| 4 | Viinieesh Raman | SJKT Simpang Lima, Selangor |     Fourth |
| 5 | Tasha Rina Binti Abdullah | SJKT Ladang Seremban, Negeri Sembilan |     Fifth |
| 6 | Yugitha Kumar | SJKT Ladang Rini, Johor |     Sixth |
| 7 | Taranya Ananthan | SJKT Jalan Haji Manan, Johor |     Seventh |
| 8 | Shashvina Sathiyakumar | SJKT Methodist Kapar, Selangor |     Eighth |
| 9 | Diryutesh Karan Karunakaran | SJKT Simpang Lima, Selangor |     Ninth |
| 10 | Lavessan Gopal Krishnan | SJKT Simpang Lima, Selangor |     Tenth |