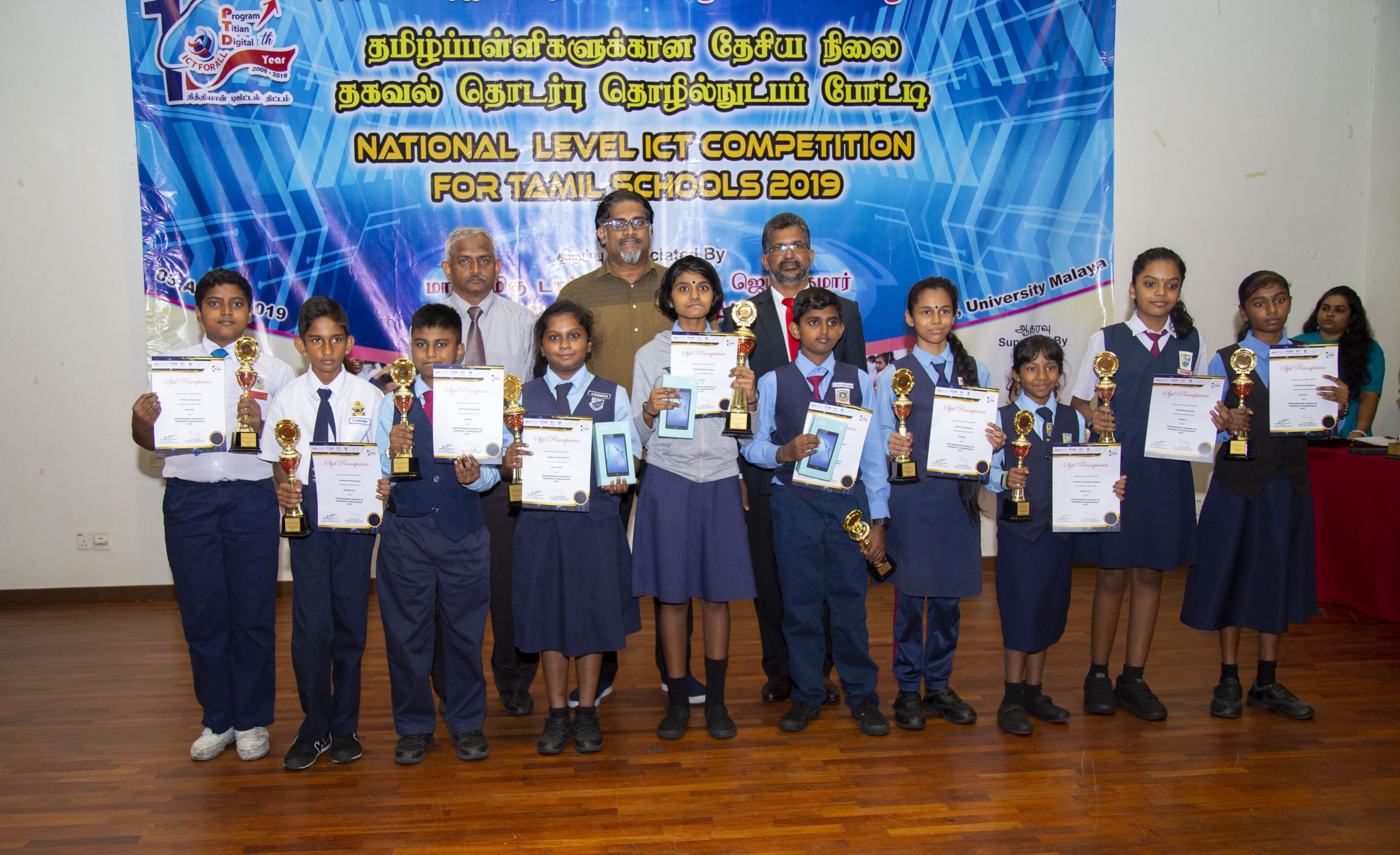 14/07/2021
State & National Level ICT Competition – 2019
2019 was the fifth year the PTD successfully organized the State and National Level ICT Competition for Tamil Schools. The competition consists of ICT Quiz, Drawing, Scratch, 2D Animation and Website Designing.
2019 was a very significant year as the total number of schools, students, states and locations where the state level competitions were held was the highest in the last five years.
A total of 240 Tamil Schools with 1732 students
from Perlis, Kedah, Penang, Perak, Selangor, Kuala Lumpur, Negeri Sembilan, Melaka, Johor and Pahang participated in this competition. The State Level ICT Competition was held in eight locations from 17 May – 20 July 2019.
The winners at the State Level ICT Competition participated in the National Level ICT Competition on 03 August 2019 in Auditorium IPPP, University Malaya, Kuala Lumpur. It was officiated by YB. Dr. A. Xavier Jayakumar, Minister of Water, Land and Natural Resources.
The first 3 winners of each competition received grand prizes of tablets, trophies & certificates and the fourth until the tenth received trophies & certificates.
The results of the National Level ICT Competition are as below:
1. ICT QUIZ
| | | | |
| --- | --- | --- | --- |
| No | Participants | School | Placing |
| 1 | Nishantika Vasudevan | SJKT St Theresa Convent, Perak |    Champion |
| 2 | Sai Sachin Ganesh | SJKT Simpang Lima, Selangor |    Runners Up |
| 3 | Athies Rakesh | SJKT Jalan Haji Manan, Johor | 2nd Runners Up |
| 4 | Neshakar Murali | SJKT Permatang Tinggi, Penang |     Fourth |
| 5 | Shree Shakthee Kumaran | SJKT Simpang Lima, Selangor |     Fifth |
| 6 | Yugesh Veerasingam | SJKT Ladang Juru, Penang |     Sixth |
| 7 | Kayalvili Manimaran | SJKT Keruh, Perak |     Seventh |
| 8 | Tharcanaa Deebagaran | SJKT Ladang Krian, Penang |     Eighth |
| 9 | Raagavi Rajendran | SJKT Bentong, Pahang |     Ninth |
| 10 | Kritthigan Chandran | SJKT Simpang Lima, Selangor |     Tenth |
2. DRAWING
| | | | |
| --- | --- | --- | --- |
| No | Participants | School | Placing |
| 1 | Sujivan Ravichandran | SJKT Methodist Kapar, Selangor |    Champion |
| 2 | Shasmithaashiniie Arumugam | SJKT Methodist Kapar, Selangor |    Runners Up |
| 3 | Kumaran Karthikeyan | SJKT Permatang Tinggi, Penang | 2nd Runners Up |
| 4 | Satisvaran Gunasagaran | SJKT Simpang Lima, Selangor |     Fourth |
| 5 | Trisshan Punithan | SJKT Methodist Kapar, Selangor |     Fifth |
| 6 | Abhimman Karthikesu | SJKT Watson, Selangor |     Sixth |
| 7 | Yogen Kaliyappan | SJKT Ladang Wellesley, Kedah |     Seventh |
| 8 | Oviya Sri Thirumurugan | SJKT Methodist Kapar, Selangor |     Eighth |
| 9 | Hasshiny Baskaran | SJKT Klebang, Perak |     Ninth |
| 10 | Tamilliny Gunasegaran | SJKT Methodist Kapar, Selangor |     Tenth |
3. SCRATCH
| | | | |
| --- | --- | --- | --- |
| No | Participants | School | Placing |
| 1 | Veemaleswary Subramaniam | SJKT Bukit Darah, Selangor |    Champion |
| 2 | Yutdhartanthamil Selvan | SJKT Bukit Mertajam, Penang |    Runners Up |
| 3 | Sutheaysh Devendran | SJKT Methodist Kapar, Selangor | 2nd Runners Up |
| 4 | Hirtik Harikrishnah | SJKT Kulim, Kedah |     Fourth |
| 5 | Karrthiga Moganasundaram | SJKT Bukit Darah, Selangor |     Fifth |
| 6 | Pavithra Moganasundaram | SJKT Bukit Darah, Selangor |     Sixth |
| 7 | Harshini Gunasehgaran | SJKT Tasek Permai, Penang |     Seventh |
| 8 | Gejiswaar Pooncholai | SJKT Simpang Lima, Selangor |     Eighth |
| 9 | Saarwinnes Albuthanathan | SJKT Natesa Pillay, Perak |     Ninth |
| 10 | Shakthivel Varman Suresh | SJKT Bedong, Kedah |     Tenth |
4. 2D ANIMATION
| | | | |
| --- | --- | --- | --- |
| No | Participants | School | Placing |
| 1 | Darvinni Mathivanan | SJKT Ladang Senawang, Negeri Sembilan |    Champion |
| 2 | Narmitha Arivazhgan | SJKT Klebang, Perak |    Runners Up |
| 3 | Kalaiarasan Balakrishnan | SJKT Ko Sarangapany, Kedah | 2nd Runners Up |
| 4 | Harisnie Muniandi | SJKT Ladang Senawang, Negeri Sembilan |     Fourth |
| 5 | Arjunt Gobinathan | SJKT Bukit Mertajam, Penang |     Fifth |
| 6 | Umetha Sureshrao | SJKT Ladang Senawang, Negeri Sembilan |     Sixth |
| 7 | Kiirthini Ravinderan | SJKT Ladang Sungai Reyla, Perak |     Seventh |
| 8 | Thivagar Murugaiah | SJKT Simpang Lima, Selangor |     Eighth |
| 9 | Yakshwin Premkumar | SJKT Tasek Permai, Penang |     Ninth |
| 10 | Muhanya Chandra Segaran | SJKT Sungai Renggam, Selangor |     Tenth |
5. WEBSITE DESINGNING 
| | | | |
| --- | --- | --- | --- |
| No | Participants | School | Placing |
| 1 | Saujanya Uvarajan | SJKT Methodist Kapar, Selangor |    Champion |
| 2 | Darshan Maniam | SJKT Seaport, Selangor |    Runners Up |
| 3 | Eimaiyan Kaliyappan | SJKT Ladang Wellesley, Kedah | 2nd Runners Up |
| 4 | Rishaan Thasann Mohan Thasan | SJKT Ladang Senawang, Negeri Sembilan |     Fourth |
| 5 | Mohamed Lathiff Bin Mohamad Ali | SJKT Watson, Selangor |     Fifth |
| 6 | Tharsheeka Ganesan | SJKT Ladang Senawang, Negeri Sembilan |     Sixth |
| 7 | Prassannah Rehganathan | SJKT Ladang Senawang, Negeri Sembilan |     Seventh |
| 8 | Albert Raja Selvam Sundaram | SJKT Klebang, Perak |     Eighth |
| 9 | Ashwynz Clarke Andrew Clarke | SJKT Simpang Lima, Selangor |     Ninth |
| 10 | Manisa Laal Jakanathan | SJKT Ko Sarangapany, Kedah |     Tenth |