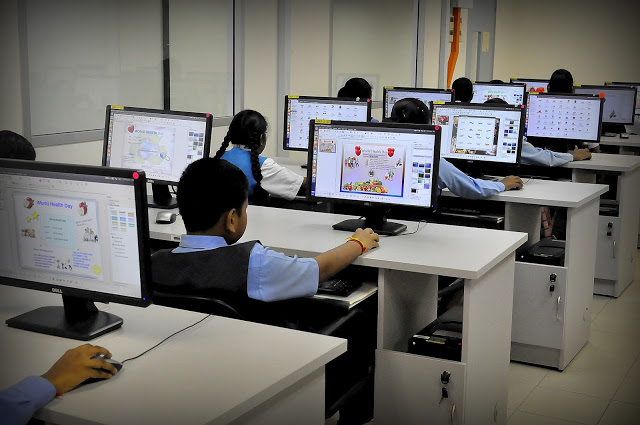 10/07/2021
First State & National Level ICT Competition-2015
PTD, for the first time initiated and organized the State and National Level ICT Competition for Tamil Schools in 2015. The competition consists of ICT Quiz, Drawing (Level 1), Drawing (Level 2), 2D Animation, Website Designing and Disassembling & Assembling Computers.
A total of 88 Tamil Schools with 972 students
from Kedah, Penang, Perak, Selangor, Negeri Sembilan, Melaka, Johor and Pahang participated in this competition. The State Level ICT Competition was held in six locations from 22 August – 10 October 2015.
The winners at the State Level ICT Competition participated in the National Level ICT Competition on 24 October 2015 in Kompleks Perdana Siswa, University Malaya, Kuala Lumpur. It was officiated by Y. Bhg. Datuk Dr. Jeyaindran Tan Sri Dr. Sinnadurai, Chairman of Yayasan MyNadi.
The first 3 winners of each competition received grand prizes of tablets, trophies & certificates and the fourth until the tenth received trophies & certificates.
The results of the National Level ICT Competition are as below:
1. ICT QUIZ
No
Participants
School
Placing

1

Ruhan Sri Rama

SJKT Simpang Lima, Selangor

Champion

2

S. Abiraamy

3

G. Kalpana
No
Participants
School
Placing

1

B. Partiban

SJKT Bandar Spring Hill, Negeri Sembilan

Runners Up

2

R. Khrishah

3

S. Vithiyashri
No
Participants
School
Placing

1

P. Yashene Priyanka

SJKT Sungai Renggam, Selangor

2nd Runners Up

2

S. Vaetheswary

3

A. Alveesha Prasanna
No
Participants
School
Placing

1

I. Arromar

SJKT Taman Tun Aminah, Johor

Fourth

2

K. Renisha

3

S. Sahntiya
No
Participants
School
Placing

1

R. Yaknesha

SJKT Simpang Lima, Selangor

Fifth

2

K. Yakeshwaran

3

B. Parhvein Prasad
2. DRAWING (Level 1)
| | | | |
| --- | --- | --- | --- |
| No | Participants | School | Placing |
| 1 | L. Durayish | SJKT St. Theresa Convent, Perak |    Champion |
| 2 | A. Agileswary | SJKT St. Theresa Convent, Perak |    Runners Up |
| 3 | R. Khirteman | SJKT Batu Ampat, Selangor | 2nd Runners Up |
| 4 | S. Jivithess | SJKT Ladang Rini, Johor |     Fourth |
| 5 | M. Thaveenaa | SJKT Kangkar Pulai, Johor |     Fifth |
| 6 | R. Harish Raj | SJKT St. Theresa Convent, Perak |     Sixth |
| 7 | S. Mishalan | SJKT Mahajothi, Kedah |     Seventh |
| 8 | L. Dharshini | SJKT Bukit Rajah, Selangor |     Eighth |
| 9 | I. Subramaniya Jothi | SJKT Simpang Lima, Selangor |     Ninth |
| 10 | V. Dhaneiswaran | SJKT Sungai Renggam, Selangor |     Tenth |
3. DRAWING (Level 2)
| | | | |
| --- | --- | --- | --- |
| No | Participants | School | Placing |
| 1 | S. Poovigha | SJKT Ladang Rini, Johor |    Champion |
| 2 | M. Saarvind | SJKT Rantau, Negeri Sembilan |    Runners Up |
| 3 | S. Manesha Manushree | SJKT Ladang Rini, Johor | 2nd Runners Up |
| 4 | G. Janany | SJKT Sungai Renggam, Selangor |     Fourth |
| 5 | Sadheeka Bt. Mohd. Sadiq | SJKT Batu Ampat, Selangor |     Fifth |
| 6 | B. Raagevendran | SJKT Klebang, Perak |     Sixth |
| 7 | S. George Harrisan | SJKT Kerajaan, Perak |     Seventh |
| 8 | V. Archana | SJKT Watson, Selangor |     Eighth |
| 9 | G. Divash Naidu | SJKT Klebang, Perak |     Ninth |
| 10 | S. Niveidaa | SJKT Mahajothi, Kedah |     Tenth |
4. 2D ANIMATION
| | | | |
| --- | --- | --- | --- |
| No | Participants | School | Placing |
| 1 | C. Kaalaimagal | SJKT Keruh, Perak |    Champion |
| 2 | S. Sargunan | SJKT Keruh, Perak |    Runners Up |
| 3 | S. Shaalini | SJKT Ladang Bukit Mertajam, Kedah | 2nd Runners Up |
| 4 | R. Lahvanya | SJKT St. Theresa Convent, Perak |     Fourth |
| 5 | S. Sri Suwetha | SJKT Ladang Rini, Johor |     Fifth |
| 6 | G. Asvind | SJKT Sungai Renggam, Selangor |     Sixth |
| 7 | Naga Thashini | SJKT Ladang Bukit Mertajam, Kedah |     Seventh |
| 8 | D. Varshana | SJKT Kinrara, Selangor |     Eighth |
| 9 | K. Manjaryi | SJKT Sungai Renggam, Selangor |     Ninth |
| 10 | M. Muvella | SJKT Ladang Rini, Johor |     Tenth |
5. WEBSITE DESIGNING
| | | | |
| --- | --- | --- | --- |
| No | Participants | School | Placing |
| 1 | P.Kaaviya Mala | SJKT St. Theresa Convent, Perak |    Champion |
| 2 | M. Gurubharan | SJKT St. Theresa Convent, Perak |    Runners Up |
| 3 | M. Viknarubini | SJKT Jalan Haji Manan, Johor | 2nd Runners Up |
| 4 | S. Thaveshini | SJKT St Theresa Convent, Perak |     Fourth |
| 5 | S. Haridiswaran | SJKT Ladang Rini, Johor |     Fifth |
| 6 | R.Hanisha | SJKT Ladang Ulu Tiram, Johor |     Sixth |
| 7 | S. Satiya Vani | SJKT Ladang Ulu Tiram, Johor |     Seventh |
| 8 | P. Prashant | SJKT Bukit Darah, Selangor |     Eighth |
| 9 | M. Sharman | SJKT Kerajaan, Perak |     Ninth |
| 10 | E. Jahnusaha Bhai | SJKT Watson, Selangor |     Tenth |
6. DISASSEMBLING & ASSEMBLING COMPUTERS
| | | | |
| --- | --- | --- | --- |
| No | Participants | School | Placing |
| 1 | M. Dinish Kumar | SJKT Telemong, Pahang |    Champion |
| 2 | K. Kathiravan | SJKT Simpang Lima, Selangor |    Runners Up |
| 3 | M. Navin | SJKT Ladang Air Hitam, Negeri Sembilan | 2nd Runners Up |
| 4 | P. Jaysilan | SJKT Klebang, Perak |     Fourth |
| 5 | M. Shomeswaran | SJKT Bandar Baru Salak Tinggi, Selangor |     Fifth |
| 6 | Y. Navineswaran | SJKT Sungai Renggam, Selangor |     Sixth |
| 7 | B. Abisek | SJKT Batu Ampat, Selangor |     Seventh |
| 8 | M. Dharvesh | SJKT Ladang Mount Austin, Johor |     Eighth |
| 9 | S. Abishek | SJKT Castlefield, Selangor |     Ninth |
| 10 | V. Thinish | SJKT Ladang Padang Meiha, Kedah |     Tenth |